What does NAP Stand For?
Mike's Best Practice:
Use identical business naming in all your listings
The acronym NAP stands for Name, Address, Phone number and it's critical for any local business that wants to be found on Google.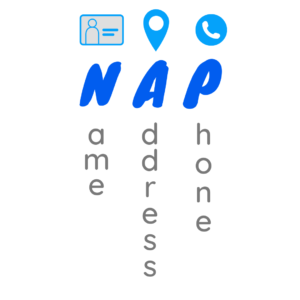 Take a moment and think about the last website you went to. Somewhere on that website you found the name of the business, as well as the address and phone number. 
For example
Take a second to think of the top 3 things that would be most important to you if you were searching for a place to host a birthday party for your 10 year old kid. You'd probably do a quick search on Google Maps or Google and you'd find the Name, address and Phone Number being the most vital to you – and to every search because it identifies the place on a map, distance from you, and gives you the ability to receive customer service from one phone call or text message.
What's the importance of NAP?
Search engines use NAP information when they're deciding which businesses to show first. Google will use the NAP to determine your location to the business location and provide the most relevant listing. 

How many local listings use NAP?
There are over 100 local listings & business directories that use your NAP information to create online visibility for you. 
Each local listing service has pros and cons and this book doesn't cover them in much detail. What's important to note is, keep your NAP information accurate and exactly the same across various listings to prevent Google from making a mistake assuming that ABC Accounting and ABC Accounting Inc., are two different  businesses. 
Why does NAP matter to you?
NAP is essential for businesses that want to rank well organically when a customer or potential prospect goes online to do a local search. 
If you don't include this information on your website and local profiles, search engines won't display your business when someone conducts a local search for your products or services.
Keep your NAP information updated and consistent on every platform. Ensure you're using the same name, address, and phone number.
Is this article helpful to you?
I would love to hear from you. Join me on my journey, subscribe and follow me on instagram @mikekwal